Don't forget, I add more fun links and inspiring things in the sidebar, that change often. --------->
A sunrise in a bubble?
These pictures are stunning.
A fun way for kids to
learn Proverbs
. We started the other day (more on that soon)
I used to always dream I'd grow up and throw party
like this one
.
Prayer Book
...love this idea
Free Children's Book Recordings
No Rushin'
I love this post about living slowly, taking it all in. I make it a point in our lives not to have too much going on. I like to be home. with my family. serving. No need to "be rushin" * I also love what she says about unplugging. I REALLY don't want a tv in our house...soon maybe.
I've been using this schedule as a guideline to clean our home everyday. I love it...and the blog!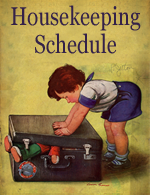 I love
this pos
t about good "old fashioned" housewives. A way to create an atmosphere of serving your husband.